---
Mechanism
The components of StayClean-F form a barrier layer on the workpiece and this prevents pad corrosion and particle adhesion.
The components of StayClean-F are removed in the spinner wash process.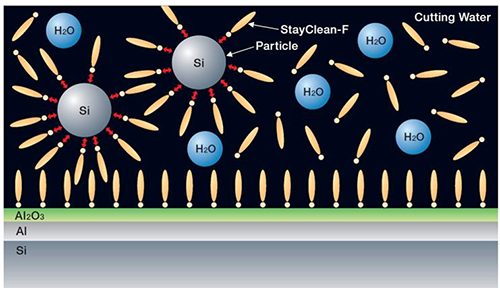 StayClean Injector
Using the injector developed exclusively for StayClean, stable supply is possible even at concentrations more dilute than one part per thousand.
---
Specifications
Cautions before using StayClean-F
Make sure to read the SDS before using StayClean-F because it describes detailed care regarding its use.
Do not use StayClean-F for any unintended use.
Cautions regarding the use of StayClean-F
Take care not to touch your eyes or skin, wear appropriate protective equipment such as gloves and glasses when handling it.
Avoid using it in conjunction with other chemical agents (in particular strong acids or strong alkalines).
Cautions regarding StayClean-F storage
Avoid exposure to direct sunlight and store in a cool dark place. Do not place it in a freezer.
Seal the container properly and then store it.
With the container still sealed, the warranty period is one year from the date of manufacture.