Bond Line-up
Uses of each bond
Bond name
Major applications
VT07
VC100
For processing under high load or of hard-to-process materials (e.g., sapphire, silicon or deep groove processing)
VC200
For edge trimming (silicon)
Supported range of each bond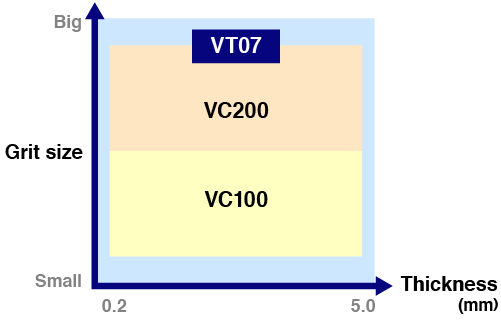 Experimental Data
Sapphire Processing
Compared to the existing blade, the VT07 blade can achieve a higher grade of processing for sapphire, which has an extremely high hardness.

Edge trimming of silicon wafers
The wafer edge trimmed by the VT07 blade (VC200 bond) has the same quality realized by the resin blade processing.

Workpiece
Si
Blade
VT07-SD2000-VC200-100
B1A801 SD2000N100M42
P1A862 SD1200N100BR16
Blade size
58 x 1 x 40 mm
Feed rate
5 degree/s
Depth
0.5 mm into Si wafer
Spindle revolution
Vitrified bond 20,000 min-1
Resin/Metal bond 30,000 min-1
---
Specification

Cautions during usage
Note the below points on its characteristics when using the vitrified bond.
Since the VT07 Series is nonconductive, contact setup (conductive type) cannot be used.
Since there is a danger of blade breakage when using the VT07 Series at high rpm, use at the specified rpm.
When using the VT07 Series on a machine with the standard BBD (Blade Breakage Detector Unit) the settings must be changed since there is a possibility of incorrect detection.
Since there is a fear of blade breakage, do not conduct the chopper cut setup (CCS) before dressing.
Note: For details, contact your DISCO sales representative.
| O.D.(mm) | VT07 Max. spindle rotation(min-1) |
| --- | --- |
| 50.0-63.4 | 20,000 |
| 63.5-88.3 | 13,000 |
| 88.4-117.0 | 10,000 |
When ordering
Please contact a DISCO representative with your product needs such as type, wheel size, and quantity.
When you place the first order with us, please explain application information such as materials to grind, sizes, machine, type, and other specification.
We are ready to help you to determine which is our most appropriate product type for your application.
* Due to improvements in our products, it is possible that product specifications may be changed without advanced notice.
Please confirm the product specifications with a DISCO representative.
To use these DISCO blades and wheels (hereafter precision tooling) safely
Please read carefully and follow the instructions below to prevent any accidents or injuries.
USE a safety cover (nozzle case, cover), equipped as a standard accessory, to avoid injury.
DO NOT EXCEED the specified rpm limit indicated on the precision tooling.
FOLLOW the instruction manual of the equipment to mount the precision tooling properly.
DO NOT DROP OR HIT the precision tooling. This may cause breakage or injury.
Always CHECK the precision tooling for chipping or any other damage before starting to use it. DO NOT USE the tooling if there is any damage.
READ the operation manual of the cutting/grinding equipment before use.
DO NOT USE the precision tooling with modified or customized equipment.
DO NOT USE precision tooling that has a different size from the one recommended for your equipment.
DO NOT USE the precision tooling for any other purpose than grinding, cutting, or polishing.
Always USE water or coolant to prevent precision tooling damage.