---
Improved usability
The 15-inch LCD touch panel with GUI (Graphical User Interface) allows for easy and intuitive operation. In addition, a spindle shaft-lock feature that automatically secures the spindle axis has been installed to make blade replacement quick and easy. DFD6450 also has a cutting water flow rate control feature, making it possible to set the cutting water flow rate for each set of device data.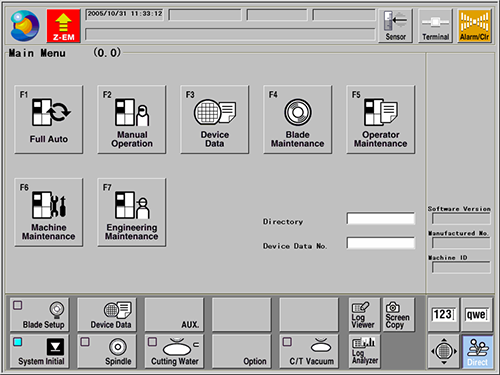 Advanced options
The equipment can have a transformer, UPS, CO2 injector, or booster pump unit built-in by revising the equipment layout while maintaining an equipment footprint equal to that of the existing model. In addition, an atomizing nozzle mechanism (Japan patent no. 3410385) for the spinner section with high cleaning effect on workpieces and ionizer specifications for preventing electrostatic build up during workpiece transfer can be selected.
DFD6450 Operation flow
Lower arm moves the workpiece from the cassette to the pre-alignment stage. Lower arm moves the workpiece to the chuck table → cutting →

Upper arm moves the workpiece to the spinner table → cleaning and drying →

Lower arm returns the workpiece to the cassette
---
Specifications
*Product appearance, features, specifications, and other details may change due to technical modifications.
*Please read the standard specification sheet thoroughly before use.