---
Introducing DWR as BCM
Due to global warming, disasters such as those caused by heavy rain are occurring with increased frequency around the world.
During flooding, it is necessary to restore production facilities quickly to sustain procurement.
At 460 kg, DWR1722 can easily be transported to a safe area before disaster strikes. To prevent damage caused by disaster, DWR1722 is also able to reinstate DI water production soon after public water supply is restored.
By supporting the quick restoration of business activities even during disaster, DWR1722 is able to contribute to your company's BCM strategy.

---
Easy maintenance
The CC Filter and ion exchange resin can be replaced with a one-touch coupler connection so that the time needed for maintenance is greatly reduced.
CC Filter: Disposable filter module with high performance
The DISCO original CC Filter provides both high filtration performance and long life time. Suspended solids filtered out by the CC Filter can be disposed of easily together with the filter.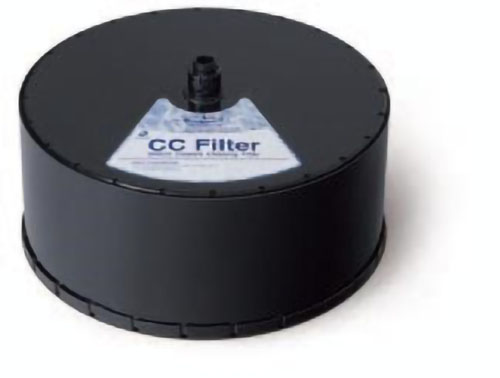 Easy operation
Operation of the DWR1722 can be linked with a dicing saw (optional). This reduces the load on the operator and the possibility of human error.
---
Specifications
*Product appearance, features, specifications, and other details may change due to technical modifications.
*Please read the standard specification sheet thoroughly before use.